Parodos
"WOOD PRINT EFFECT": EXHIBITION OF CONTEMPORARY JAPANESE AND LITHUANIAN WOOD PRINT
12 20–12 20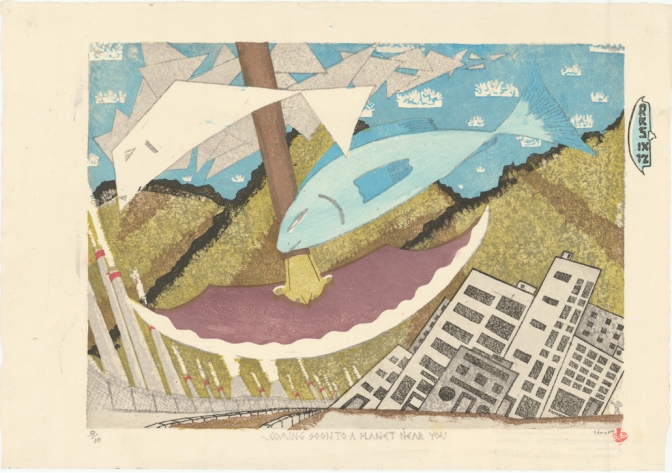 An exhibition of contemporary Japanese and Lithuanian wood print "Wood Print Effect" and the catalogue is going to be presented at KCCC Exhibition Hall (Didžioji Vandens str. 2, Klaipėda) on the 15th of December, 2017, at 5 PM. 
The intrigue of this joint exposition "Wood Print Effect" of contemporary Japanese and Lithuanian artists is to reveal the spectre of possibilities of wood print by comparing the works of today's wood print artists of two countries and to show the modern variations of old graphic techniques. The opportunity to get acquainted with contemporary Japanese xylography was given to us by the partner of the project – Kyoto International Wood Print Association (KIWA).
This exhibition will be the first one in Lithuania presenting the works created using cotemporary Japanese wood print technique (mokuhanga), allowing to learn about the characteristics of this unique technique developed in Japan (water-based inks are being used for printing, there are no presses, printed on a special hand-made paper washi). Japanese fine arts are famous for the wonderful achievements of the masterful wood prints (ukiyo-e); however, contemporary Japanese wood print – mokuhanga – is not a continuation of the medieval traditions. In contrast with the confined and isolated ukiyo-e technique, this one boldly applies new complex mixed techniques; it is more abstracted or conceptual, though for its structure, symbols and implications it still remains a kind of successor of the old traditions. Sixteen Japanese artists of different generations are participating in the exhibition, and almost fifty works with different themes and unique artistic stylistics are presented.
Post-modern visual expression and the best old Lithuanian graphic traditions in Lithuania are being interpreted by contemporary wood print artists. Even though this technique has old traditions going back to the 16th century, it is not highly popular among the artists due to its complexity. Thirteen most expressive wood print promoters have been brought together for the Lithuanian part of the exhibition; over thirty newest works of the last decade have been selected. The exposition as a whole illustrates the great importance of the search for the new means of expression for the artists and the way printing process gets more complex every day. They often combine several techniques instead of choosing single pure classical one, and digital technology is being increasingly used. A great range of means of artistic expression, where classical and modern techniques perfectly suit each other, and a diverse range of themes analysed by the artists are visible in the works.
Colourful and diverse panorama of contemporary Japanese and Lithuanian wood print reflects on a great freedom of artistic creation. In this exhibition the different understanding of aesthetics, cultural context and plastics of the works reveal the diversity of creation of complex wood print technique, show its possibilities and tendencies, give insight into the works of contemporary xylography masters of Japan having the oldest wood print traditions, represent contemporary Lithuanian wood print and the artists working with it, and present the wood print as a modern and interesting graphic technique. Trilingual catalogue gives meaning to the visual idea of the exhibition in a wider international context of fine art as well.
Participants:
from JAPAN: Chiaki, Konomi Honda, Natsuko Katahira, Harue Katsuyama, Masanori Katsuyama, Chie Kawabata, Akira Kurosaki, Eimei Machida, Keiko Mikami, Shinsuke Minegishi, Yasuko Onishi, Kyoko Sakamoto, Kayako Shimizu, Richard Steiner, Kanako Watanabe, Nobuko Yamasaki.
From LITHUANIA: Jonas Čepas, Inga Dargužytė, Daiva Gudelytė, Evaldas Mikalauskis, Kristina Norvilaitė, Vladas Lisaitis, Laura Selmistraitytė, Jolanta Sereikaitė, Laisvydė Šalčiūtė, Vytenis  Tolutis, Roberta Vaigeltaitė-Vasiliūnienė, Kęstutis Vasiliūnas, Neringa Žukauskaitė
Exhibition curators: Kyoto International Woodprint Association President , KIWA Founder, Kyoto International Mokuhanga School Richard Keith Steiner (Tosai) and Regina Urbonienė
Idea author and manager – Eglė Bertašienė
Organizers –  VšĮ "Meno dalis", Kyoto International Woodprint Association
Nominal support – Embassy of Japan in Lithuania
Main sponsors – project is funded by the Lithuanian Cultural Council and the Ministry of Culture of the Republic of Lithuania
Sponsors – BMK leidykla, BMK kopijavimo centras, UAB "Dekbera", UAB "Upartas", Mrs. Kristina Mekšrūnienė.
The exhibition "Wood Print Effect" will run until the 14th of January, 2018 m.
Opening hours of the KCCC Exhibition Hall (Didžioji Vandens str. 2, Klaipėda): Wednesday-Sunday 11 AM – 7 PM (closed on public holidays).